The Best Eco-Friendly Wool Dish Drying Mat
Wool is ultra absorbent and breathes.
Linen encourages evaporation.

Our Wool Dish Drying Mat is 100% natural, and not just for drying dishes!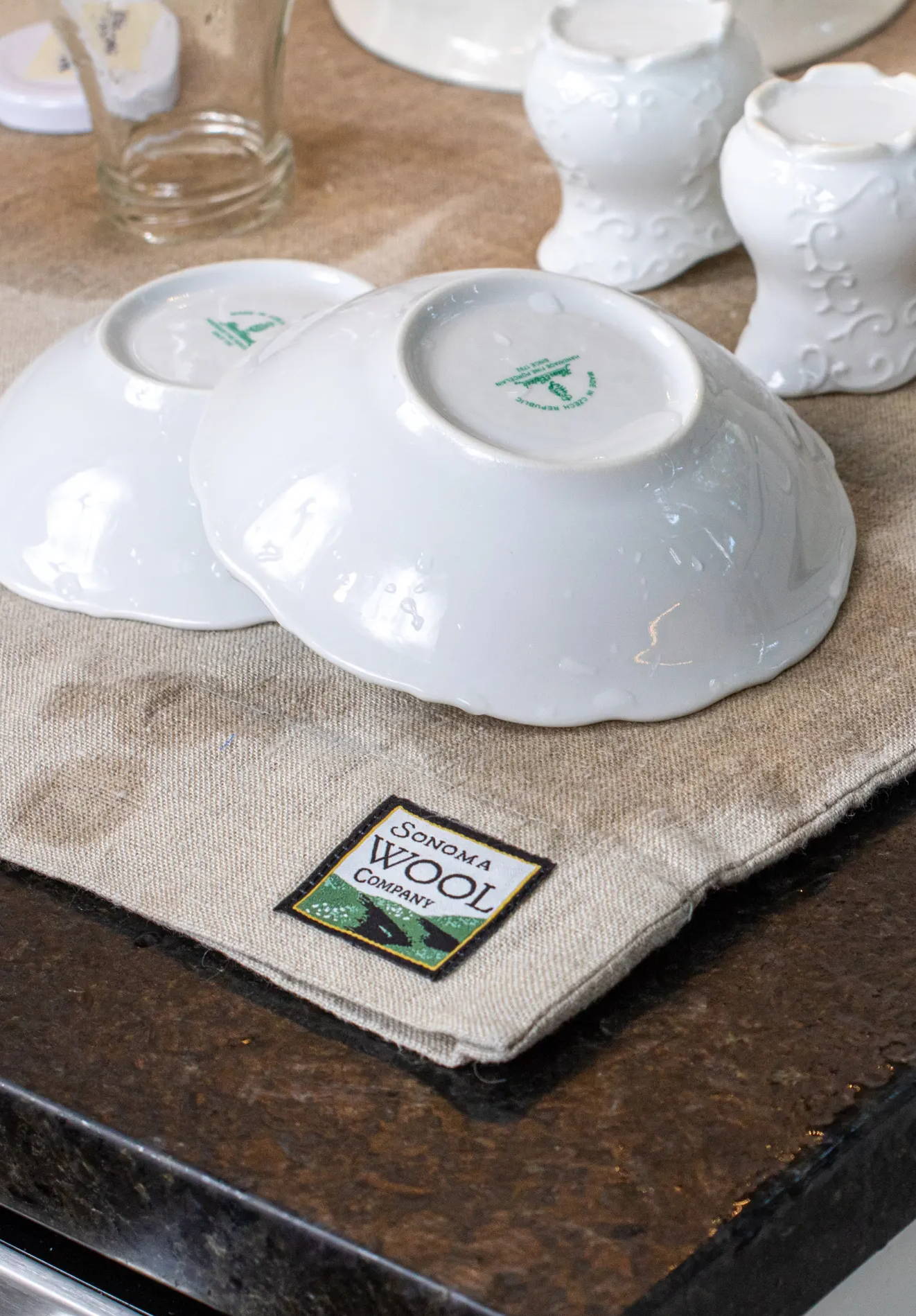 It's time to Ditch the
Plastic Rack!

Rusted, moldy, and decades old...
It's time to give your kitchen an
eco-friendly upgrade!
Our eco-friendly Wool Dish Drying Mat is more than just a place to dry your dishes.

It will create a home for a number of items you rinse throughout the day.

A safe haven in the kitchen, from baking or blending smoothies, the perfect place to rinse and let items dry.


Count the ways you'll use your Wool Dish Drying Mat!
Sure, you're probably used to having your dishwasher to the majority of drying dishes for you.

But what about those items that you rinse between loads?

For bakers, makers, movers and shakers, this All-Natural Wool Dish Drying Mat has its place in every home!
My favorite use for my eco-friendly Wool Dish Drying Mat is when I am baking. I often won't completely wash my measuring cups or spoons until I'm completely done with all my recipes for the day.

In between measuring scoops, I rinse them off and let them rest on this perfect, designated, clean safe space on my counter!

It's easily stashed and stored too - just roll it up and tuck it away!

---
Our friends recently took a road trip across the country in a tear drop trailer and let us know that our environmentally sustainable Wool Dish Drying Mat was their ultimate lifesaver when it came to managing their dishes and utensils.

It's compact and provides for an easy clean space for when you need to set your wares aside to dry.

From camping, to baby care, our American Wool Dish Drying Mat is the best sustainable kitchen organizer you will find.
---
---
- Kelsie Greene, Media Manager, Sonoma Wool Company
To contact Kelsie about this, or any other woolly thought you may have, feel free to email her at kelsie@sonomawoolcompany.com.
Receive occasional updates and offers from the Sonoma Wool Company team!
---